A second generation Los Angeles native, Benida Solow began her career as a jeweler. Her keen interest in nature can be seen in all of her artwork. She first explored the art of silversmithing at the National University of Mexico in Mexico City in 1964 where shealso became fluent in Spanish. She continued her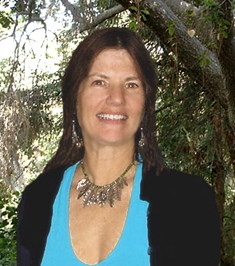 study of ceramics and design at Denver University. In 1967 she returned to Los Angeles where she received her BA in art from UCLA. She went on to study ceramics jewelry and glass design at California State University, Northridge where she received her MA degree in 3-dimensional art in 1979.
Ms. Solow's interest in a variety of media has led her to express her talent in costume design, jewelry, stained glass, leather, mosaic and clay. She has exhibited her work in New York, various Southern California venues including The Pacific Design Center in Los Angeles, del Mano Art Gallery, and the Laguna Art Museum in Laguna Beach. Her stained glass is found in numerous private residences in Southern California and in Mexico City. For the Chapel at the University Synagogue in Brentwood, she designed, created and installed the 28'x4' 3-dimensional stained glass and copper window, "Jacob's Ladder". Her work has been published in Artweek, the Evening Outlook and TIME Magazine.
Her teaching positions include 15 years of teaching art at Kenter Canyon Charter Elementary School; 4 years teaching art and Spanish at Horizons High School, Center for Creative Studies in Santa Monica; jewelry, stained glass and ceramics at Paul Revere Middle School; California State University, Northridge; and stained glass and ceramics in her own studio. She has given guest workshops at various schools and art festivals including Curtis School and the Natural History Museum in Los Angeles.
Ms. Solow's other interests include political activism, eco travel, snorkeling, scuba diving, hiking, sewing and gardening. She is a volunteer naturalist for the American Cetacean Society Cabrillo Marine Aquarium Whalewatch program.